Area's NEWEST & LARGEST Laundromat. We have 97 washers and dryers so there is NO WAITING. Our washers are fast and our dryers are hot and fast. You will be in and out in no time. We have 11 foot aisle ways so you won't feel crowded. We are always staffed with friendly attendants who ensure Spintastic is always the cleanest laundromat in town.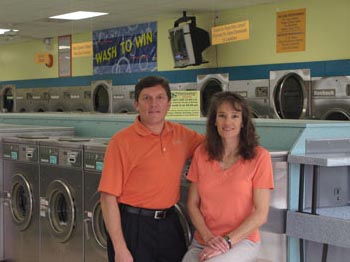 Our washers range from top loaders to giant capacity 8 load washers which are perfect for family sized loads as well as king size comforters and blankets.
We have a designated children's play area as well as pool & foosball tables & video games. We are air-conditioned and have drinks, snacks, ice cream, free wireless internet & TV's throughout with English and Spanish programing.
NO TIME FOR LAUNDRY? NO PROBLEM! Do all your laundry in 4 minutes with our drop-off laundry service. Just drop off your dirty laundry and pick up your nicely folded, clean clothes in a neatly wrapped bundle, often the same day.
Spintastic is card operated so there is no need to fill your pockets with heavy quarters. We have reloadable, refundable, laundry cards that start all machines and can be used for purchasing a full line of laundry supplies and a variety of ice cream treats. Credit cards are accepted so you don't even have to carry cash.
We offer two reward programs that give you instant bonus cash on your laundry card and free washes and dries.